Appleton Scout Camp
Jump to navigation
Jump to search
Appleton Campsite Signal Hill
[
edit
]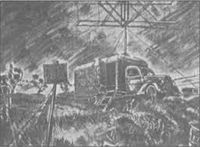 Second World War site
What is today known as Appleton campsite and the surrounding area, was once the site of a top secret Second World War unit.
It was the base for the Special Signals Services who were developing a new technology called RADAR (RAdio Detection and Ranging).
On 14 May 1941 equipment to set up a twin mobile radar set arrived on Signal Hill. Due to the secrecy the Army knew nothing about them and that no accommodation, rations or, more importantly, helpers had been arranged. However Naval personnel at the adjacent Port War Signal Station helped with rations and accommodation.
Unfortunately, due to the secrecy surrounding radar during the War, and the deliberate destruction of papers after the War, no formal, authoritative history of the site or of the Special Signal Services unit exists. (Ack: The Heritage Portal)

Sea Point District campsite
Appleton was once a Sea Point District campsite, with John Appleton (after whom it is named) being instrumental in securing its use for Scouting in 1946. At one time Sea Point had over seven active groups and made good use of the site, but as the demographics of the area changed it became a Regional Campsite.
Appleton today
Appleton Scout Camp is unique in its position and beauty. A small camp, situated on the ridge of Signal Hill, it offers unobstructed views of the Atlantic Ocean, Cape Town, Lions Head and Table Mountain. On a clear day one can see remarkably far. It is perfectly suited to smaller Groups who do not want to travel long distances to be with nature. The facilities include toilets, bunkhouse consisting of twenty two, a kitchen open plan area, sink, fridge, stove and some extra electrical points. Gas cooking is a good option as well, so bring your own. A fire pit and braai area built with a magnificent view over the city lights and Table Mountain, offers the very best of campfire camaraderie. A large lawn (big enough for tents, cricket or soccer completes the camp-site itself.
Various hikes along and around Signal Hill offer a wealth of knowledge and beauty. There are various ruins, the Noon Gun and Malay Kramats as well as unique Fynbos, grey Duiker, black Eagles and even Rooikat (Lynx). The climb up Lions Head commences one kilometre from the camp. A round trip to the summit and back usually takes approximately three and a half to four hours.
What is particularly unique about this venue is the total seclusion, yet it's in close proximity to Cape Town and Sea Point. Almost an island, it allows Scouters to have a direct comparison with the love of nature and the often short-sighted ways of man. A carefully planned camp, structured along this theme, can prove absolutely invaluable in teaching our children the true meaning of the eco-system and inter-dependency.
Often perceived as a negative, is the water scarcity at Appleton during the Summer months. I view this in a very positive light. If the outing wants water, it must be paid for. However, aspects of Scouting are about appreciation of our resources, in turn engendering respect. Many Scout Groups bring their own jerry cans or holders of fresh water. These Groups learn very valuable lessons about our sensitive environment and practice water conservation at home long after the camp is over.
Scouting is many things to many people, but one aspect always shines through: respect for our Earth and our fellow man / woman. Appleton Camp is a place to reinforce this principle.
Ack: Braam Malherbe and The Heritage Portal
Western Cape Scout Heritage