Computer Scout Interest Badge
Jump to navigation
Jump to search
Badge requirements
[
edit
]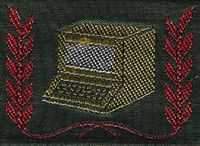 Present evidence of your involvement in using computers over a period of at least three months, and explain what you learnt in that time.
Show a general knowledge of computer technology, including the basic components of a computer system, and explain the following terms: hardware, software, operating system, memory, processor, storage devices, modem, scanner, network, internet, backups, copyrights
Discuss the different storage devices and media (hard drive, CD-ROM, etc.) which are currently available, and what each of them is used for.
Do THREE of the following:

Use a word processor to produce two notices to parents, or troop newsletters, including both text and graphics if possible.
Use a database package to compile a troop list. Show how to print different reports, such as a list of phone numbers for each patrol, a list of birthdays in calendar order, or an address list for the parents committee. Help your Scouter by keeping these lists up-to-date for at least 3 months.
Use a spreadsheet to compile a food budget for a patrol camp.
Use a computer to design and print a poster, e.g. an advertisement for a Scout event, including a logo or illustration you designed on the computer.
Show that you know how to search for information on the internet, and find out what information is available about Scouting in South Africa and in other countries.
Design a web page for your troop, and keep it up to date over at least three months. Keep note of any feedback you get from people who visit your page.
Make contact with a Scout in another country or town, and correspond with them by email for at least three months.
Use a programming language to write and demonstrate a computer programme you have chosen, subject to your examiner's approval.
Demonstrate your knowledge of computer maintenance by doing some of the following, to the examiner's satisfaction: assembling a computer from parts, installing new hardware, diagnosing and correcting faults, installing and configuring software.
Requirements in PDF
[
edit
]
See also
[
edit
]