Food for Life - Gold Scout Interest Badge
Jump to navigation
Jump to search
By the completion of this stage the Scout would have ability to draw up a business plan and apply the knowledge gained.
Badge requirements
[
edit
]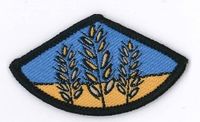 To obtain the badge the Scout should be able to do all of the following:
Completion of the Food for Life – Silver Scoutcraft Badge is a prerequisite for this badge.
Draw up a basic business plan, which includes:

Name of the business;
Market place – Where you will sell your produce and who will your customers be;
Product – What you will be selling;
Budget – How you will keep accurate record of income and expenditure and how much you will charge for you products;
Staffing – Who will be responsible for each job; and
Marketing – How will you market your product – including a poster or banner that you will use.

Do one of the following:

Pickle a vegetable
Make jam
Dry a vegetable or fruit

Grow two types of these vegetables and donate them to a worthy cause or help an orphanage, old age home, church, etc. to start a garden.
Explain how you will test the type of soil that you have.
Explain two types of irrigation that you can use for your vegetable garden.
Requirements in PDF
[
edit
]
See also
[
edit
]