Geologist Scout Interest Badge
Jump to navigation
Jump to search
Badge requirements
[
edit
]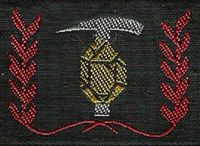 Make a collection of 30 different geological specimens stored in boxes suitably labelled and cross referenced to a field note book in which will be indicated the following:

Specimen identification
Exact locality described in some detail with a cross reference to a 1:50 000 map.
Date of collection.

Description of the site and surrounding topography.
Broad description of the appearance of the specimen itself and conclusions as to what it is.
Know the difference between sedimentary and igneous rock and be able to relate this to natural phenomena such as volcanic and alluvial actions.
Have a knowledge of the following:

The need to avoid disfiguring the environment when collecting specimens.
The regulations governing the preservation of rare specimens and national monument sites.
The need to have written permission to collect specimens on private property.

Demonstrate the use of a geological hammer and know what its parts and characteristics are.
Demonstrate in a practical way an ability to read a geological map by sketching short traverses across a fault, a dyke, cyncline or anticline and an uncomformity.
Identify at least half of twenty minerals selected at random by the examiner from his personal collection or from a field expedition.
Have a reasonable knowledge of the geology of southern Africa and be able to give a brief discourse on the most prominent geological areas from an economic viewpoint.
Demonstrate a reasonable grasp of the formation of Earth and its development including tectonic plate movement and the effect of this on the geology of the continents.
Requirements in PDF
[
edit
]
See also
[
edit
]