Sports Scout Interest Badge
Jump to navigation
Jump to search
Badge requirements
[
edit
]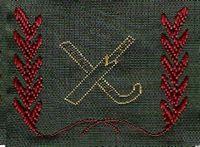 Represent your school and/or your sports club in one team sport for two full seasons i.e. winter and/or summer sports. Examples of team sports:

Baseball

Basketball

Cricket

Hockey

Ice Hockey

Lifesaving

Polo/polo-cross

Rugby

Soccer

Softball

Surf

Volleyball

Water Polo

Participate in one other sport (not counted for 1 above) reasonably well as a team member or in an individual sport for at least two full seasons ie winter and/or summer.
In other words you must be proficient in at least 2 sports of your choice for at least two full seasons. (At least one sport must be a team sport.)
Examples of individual sports:

Archery

Athletics

Badminton

Bowls

Canoeing

Cross-country
Diving

Fishing
Golf

Gymnastics

Horse riding

Judo/Karate

Jukskei

Rally navigation

Roller/ice skating

Sailing
Sculling

Shooting

Skiing

Squash
Swimming

Table Tennis

Tennis

Water-skiing


Be familiar with the skills and techniques in each of your chosen sports.
Show that you know the rules and how to score.
Discuss the equipment used and how to care for it.
Discuss the safety rules and what injuries could occur and how to prevent them.

Explain what sportsmanship is and why it is important. Give several examples of good sportsmanship in sports. Relate at least one of these to everyday citizenship off the sports field.
Referee a match or act as an umpire.
Make a set of training rules for the sports you have chosen. Explain why these training rules are important. Follow the rules. Design exercises for these sports and keep a record of how you do in these sports for one season. Show how you have improved.
Requirements in PDF
[
edit
]
See also
[
edit
]